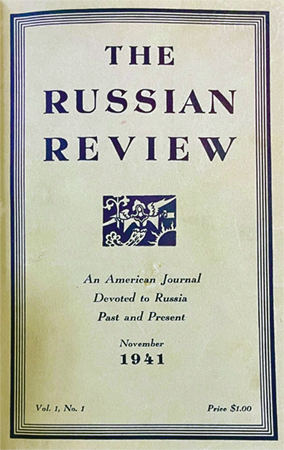 Cover of the first issue of The Russian Review, published in November 1941. Among the contributors to the inaugural issue were author Vladimir Nabokov, journalist and religious activist Hélène Iswolsky, sociologist Nicholas Timasheff, and historian Michael Karpovich.
To mark the eightieth anniversary of the journal's founding in 1941, we've asked a group of contemporary scholars to reread and reconsider the significance of a selection of articles published in The Russian Review in past decades. This retrospective online collection has two important aims. First, in an age of short attention spans and the relentless quest for the latest scholarly "turn," it seeks to recover articles from the journal's back catalog worthy of another look. Second, by reexamining contributions dealing with a wide array of themes—including gender, sexuality, health, imperialism, literature, music, and material culture—it strives to reassess the contribution of The Russian Review to the study of Soviet culture in all of its diverse forms. While many of those involved in the journal's founding were emigres who consciously eschewed the term "Soviet," The Russian Review was never limited to Russia alone. Founded months after the Soviet Union entered the Second World War and continuing through the Cold War and its aftermath, The Russian Review became a central forum for discussions and debates about the culture and politics of the Soviet Union and its successor states. The oldest continuously published journal of Russian and Eurasian studies in the United States, The Russian Review continues to encompass the region's diversity, both past and present.
Rereading Soviet Cultures begins with an introduction by Nari Shelekpayev, who developed the collection's conceptual framework in conversation with Associate Editor Serguei Oushakine and then spearheaded its development. Each feature that follows pairs a journal article from the past with the commentary of a current scholar in our field. In keeping with the journal's interdisciplinary and international focus, those commenting reflect a wide array of methodological approaches and are based not only in the United States, but also in Russia, Germany, Finland, and the United Kingdom. Taken as a whole, we hope this collection fosters a lively and ongoing dialogue between the scholarship of the past and the scholars of the present.
Erik R. Scott
Editor, The Russian Review
---
Soviet Cultures Between the Past and the Future
Introduction by Nari Shelekpayev
What Sex in the Soviet Union?
Alexey Golubev Rereads Vera Sandomirsky's "Sex in the Soviet Union"
Exotic Bodies in Soviet Culture: The Caucasus, Empire, and Revolutionary Old Age
Botakoz Kassymbekova Rereads David Shub's "Kamo—The Legendary Old Bolshevik of the Caucasus"
Official Culture and Tactical Discourse in Soviet Central Asia
Claire Roosien Rereads Kiril Tomoff's "Uzbek Music's Separate Path"
Terror and Respect, or Terror and Pity? Soviet Tragedy and Khushchev's Secret Speech
Anatoly Pinsky Rereads Helen Muchnic's "The Concept of Tragedy in Russian and Soviet Literature"
The Tereshkova Moment: Self and Emotions in Soviet Women's Letters
Daria Ganzenko Rereads Roshanna Sylvester's "'You Are Our Pride and Glory!'"
Networking Solzhenitsyn: First Links to The First Circle
Katherine M. H. Reischl Rereads Helen Muchnic's "Solzhenitsyn's 'The First Circle'"
Material Mined
Catriona Kelly Rereads Serguei Oushakine's "'Against the Cult of Things'"