Peter Rutland
---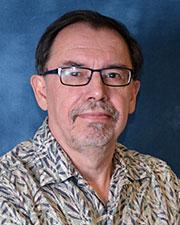 Colin and Nancy Campbell Professor in Global Issues and Democratic Thought, Department of Government, Wesleyan University
Biography
—
Peter Rutland has taught at Wesleyan since 1989. Before that he taught at the University of Texas at Austin, and at the University of York and London University in the UK. He has a BA from Oxford and a D. Phil from York. He has been a visiting Fulbright professor at the European University in St. Petersburg and at Sophia University in Tokyo. From 1995-97 he was on leave from Wesleyan and served as assistant director of the Open Media Research Institute attached to Radio Free Europe/Radio Liberty in Prague. 
His research interests focus on all things Russian and places "where the Russian boot has trod" (Nicholas II) in the former Soviet Union and the former East Europe. He started off studying workers and the Communist Party, moving on to broader questions of economic policy in the socialist and post-socialist economies. Along the way he studied nationalism and ethnic conflict in the region. In 2002-03 he made field trips to study the dynamics of national identity in Azerbaijan, Abkhazia and Mary-El. He is on the program committee for the annual conference of the Association for the Study of Nationalities,and he blogs about nationalistm.
He has written two books, The Politics of Economic Stagnation in the Soviet Union (Cambridge University Press, 1992) and The Myth of the Plan: Lessons of Soviet Planning Experience (Hutchinson, 1985); and edited a third, Business and the State in Contemporary Russia (Westview Press, 2000). Recent articles cover topics such as the rise of President Putin, the Russian oil and gas industry; the reform of the Russian electricity monopoly; and Russia as an Asian power.